The Arizona Diamondbacks just won two in a row after yesterday's victory over the Chicago Cubs on the road. Now they come back to Chase Field for a six game homestead against the Phillies and Rockies. Sound familiar?
That's because the same situatation was presented with this team during the last homestand against the Dodgers and Mets and they went 0-6. That won't get it done. If this team wants to get back to respectability they need to win at home! It starts tonight with game 1 against the Phillies:
Up Next:
What: Phillies@Diamondbacks
When: 6:40pm
Where: Chase Field
TV/Radio: FSAZ/KTAR-FM (98.7)
Matchup: RHP Roberto Hernandez vs. RHP Josh Collmenter
Need to Know: Collmenter was moved to rotation to help this team win and get the pitching staff on track and so far he has done ok…He is 0-2 with a 4.50 era this year…In his last start a three run homer by Yasiel Puig spoiled a otherwise good outing…Roberto Hernandez allowed 6 runs on 9 hits against the Rockies in his last start. Hernandez is 2-0 with a 2.00 era against Arozona while Collmenter is 0-2 with an era close to 5 against Philly in his career.
Dbacks Lineup: Its Zombie Night and A.J Pollack is back!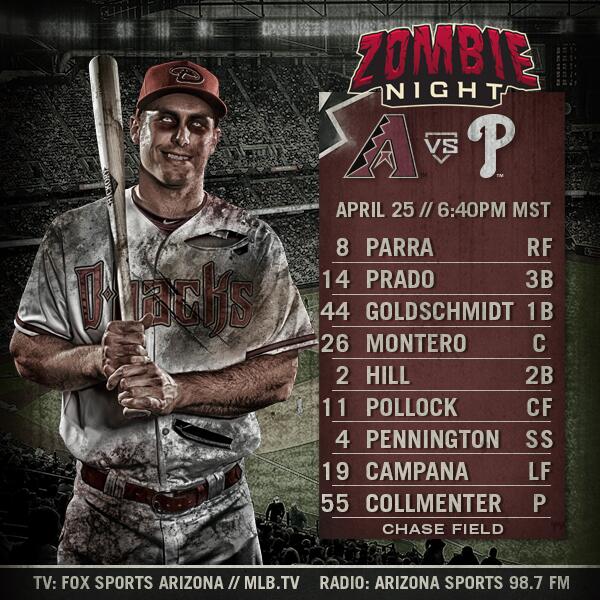 Photo courtesy of @Dbacks on twitter
Projected starters for the next two games:
Saturday: At Chase Field, 5:10p.m., Diamondbacks RHP Bronson Arroyo (1-2, 9.50) vs. Phillies LHP Cliff Lee (3-2, 3.09).
Sunday: At Chase Field, 1:10 p.m., Diamondbacks RHP Brandon McCarthy (0-4, 6.23) vs. Phillies RHP A.J. Burnett (0-1, 2.73).
Tags: Arizona Diamondbacks