Who's rad, who's bad for the Diamondbacks this week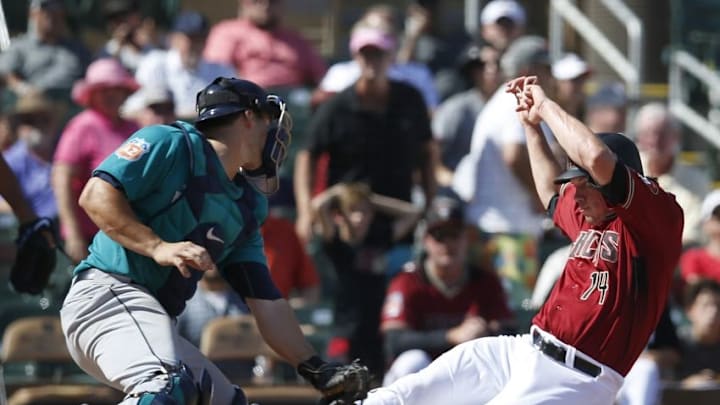 Opening Day is just three weeks away, which means the time is almost here for baseball games that matter. Until then, we will be left with meaningless spring games. There have been some good– and some not-so-good– Diamondbacks in the Cactus League this week.
RAD: 
Peter O'Brien: The 2012 second-rounder homered twice on Sunday and has 11 RBI in 12 games.
Brandon Drury: Drury is batting .423/.464/.846 with two home runs and eight RBI in ten games, making a strong case at third base.
Rickie Weeks: The former All-Star appears to be playing himself into a bench role, going 10-for-20 this spring.
Socrates Brito: Brito is making a strong case to start in the outfield over the $68 million man himself, Yasmany Tomas. He is batting .391/.417/.609 with a home run, six RBI and a steal in eight games.
Nick Ahmed: All of the trade talk has not appeared to phase him. He has five extra-base hits in eight games.
Robbie Ray: Despite allowing his first two earned runs of the spring this week, his ERA sits at just 1.86 through 9.2 innings.
Bad: 
Paul Goldschmidt: Last year's MVP runner-up is batting .217/.286/.261 in eight games this spring, although this should not bear much on his regular-season prospects.
David Peralta: Peralta is batting .250 .308 .375 in eight games this spring.
Daniel Gibson: Gibson allowed two earned runs in an inning on Sunday– bringing his ERA down to 32.40.
A.J. Pollock and Yasmany Tomas: Both players have been sidelined most of the spring; Pollock has played in just three games and Tomas is yet to play in a Cactus League game. This should not affect Pollock but it may affect Tomas, especially as Socrates Brito continues to blossom.