Diamondbacks News
Diamondbacks series preview: Bradley gets the nod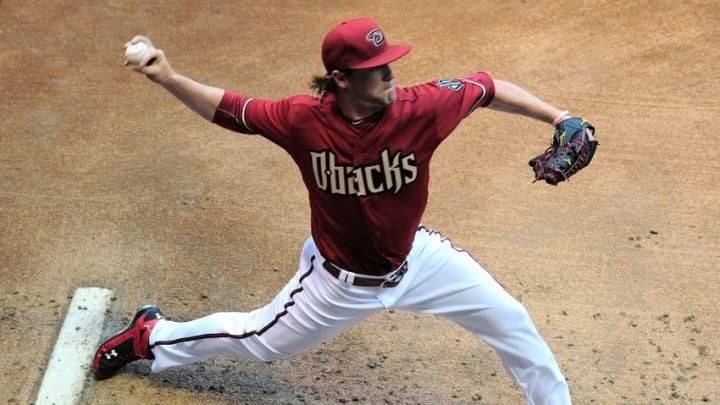 Apr 22, 2015; Phoenix, AZ, USA; Arizona Diamondbacks starting pitcher Archie Bradley (25) warms up before facing the Texas Rangers at Chase Field. Mandatory Credit: Joe Camporeale-USA TODAY Sports /
Pitching Matchups: 
Monday: Archie Bradley (0-0,-.– ERA) vs. Jake Peavy (0-1, 10.00 ERA)
Tuesday: Robbie Ray (0-0, 2.92 ERA) vs. Matt Cain (0-1, 6.75 ERA)
Wednesday: Zack Greinke (0-2, 6.75 ERA) vs. Madison Bumgarner (1-1, 4.50 ERA)
Thursday: TBD vs. Johnny Cueto (3-0, 3.38 ERA)
The first name listed is obviously the one that jumps off the page. Bradley, the No. 2 prospect in the Diamondbacks' system, made his MLB debut last April. He shined in his first four outings, going 2-0 with a 1.80 ERA. The following four were forgettable, giving Bradley a 2-3 record on the year with a 5.80 ERA before being sidelined with shoulder tendinitis. Bradley made two starts for Triple-A Reno this year before being recalled to spot-start for Rubby De la Rosa, going 1-1 with a 4.50 ERA.
The Giants' rotation is like few others. From Cain to Bumgarner, each has been a stud throughout their career. Just looking at the names they're facing may act as a bit of a fear factor for Arizona's youngsters. But, the numbers so far don't match the names—a similar situation as Zack Greinke's. Peavy and Cain's best days are almost certainly behind them, while Bumgarner's numbers are not up to par thus far this year. Cueto, on the other hand, has been the Giants' star of the rotation, lasting through the seventh inning in all of his three starts, owning nearly half of the teams' wins. Cueto, of course, turned down an offer from the Diamondbacks before inking his 6 year, $130 million deal with San Francisco.