Who was rad, who was bad against the Marlins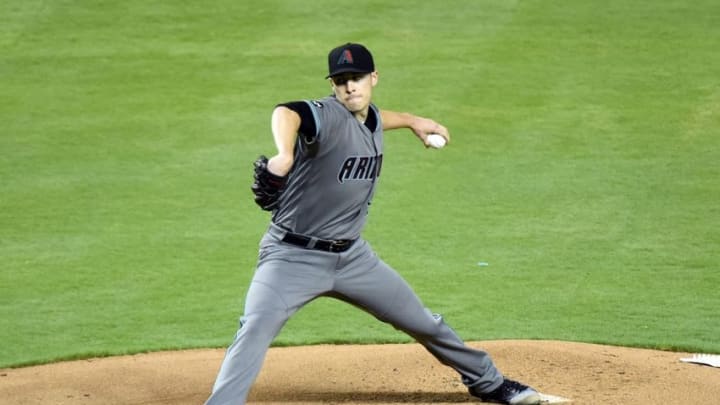 May 3, 2016; Miami, FL, USA; Arizona Diamondbacks starting pitcher Patrick Corbin (46) delivers a pitch during the first inning against the Miami Marlins at Marlins Park. Mandatory Credit: Steve Mitchell-USA TODAY Sports /
I know online readers tend to have short attention spans, so this whole post can pretty much be boiled down to this: The Diamondbacks are in a bad spot right now.
If you stayed with us, thank you. The Diamondbacks' struggles continued, as the team was swept/ lost two out of three to the Marlins at Marlins Park. Miami has now won ten of its last 11 games, making the Marlins baseball's hottest team.
Rad: Brandon Drury
Drury kept on rolling by virtue of going 3-for-12 this series. He went 0-for-4 tonight, but looked solid in the first two games.
Bad: Patrick Corbin
Corbin allowed three earned runs in 5.1 innings, failing to qualify for a quality start. His ERA currently sits at 4.91.
Rad: David Peralta
Peralta belted a two-run shot off of Jose Fernandez yesterday. It was just the second homer Fernandez allowed this season.
Bad: Rubby De la Rosa
De la Rosa allowed eight hits and four runs in 5.2 innings last night, ending a string of pretty impressive starts.
Rad: Steve Berthiaume and Bob Brenly's contempt for Marlins fans
The Marlins may have won 10 of 11, but it's no secret that the team doesn't have a very large fanbase. Steve Berthiaume and Bob Brenly clearly noticed a deep blue sea of empty seats, and frequently made light of the Marlins' minimal appeal.
Bad: Andrew Chafin
Chafin allowed two runs in 0.1 innings, giving him a series ERA of 54.00. Not even Shelby Miller has an ERA that high.
Arizona will now head to Atlanta to face the Braves at Turner Field for the last time ever.