Arizona Diamondbacks: Prieto wore a smart watch during wild card game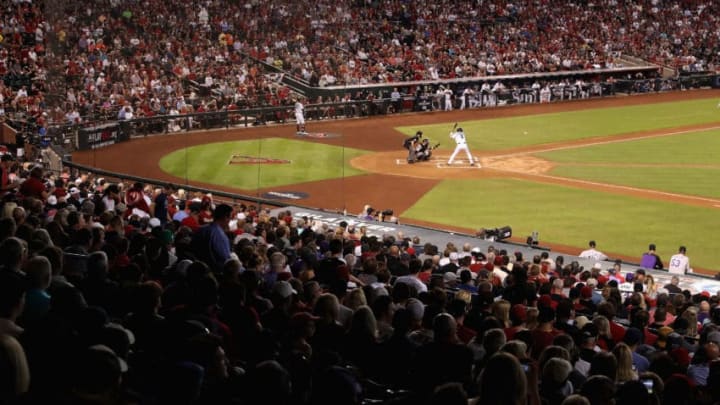 PHOENIX, AZ - OCTOBER 04: David Peralta #6 of the Arizona Diamondbacks bats against the Colorado Rockies during the frist inning of the National League Wild Card game at Chase Field on October 4, 2017 in Phoenix, Arizona. (Photo by Christian Petersen/Getty Images) /
Arizona Diamondbacks coach and interpreter for Spanish-speaking players  Ariel Prieto is being investigated by Major League Baseball for wearing an Apple watch during Wednesday's Wild Card game victory over the Colorado Rockies.
Here is a statement the D-backs released about the incident, per Steve Gilbert of MLB.com:
"Ariel Prieto has assured us that this was a simple oversight and honest mistake. The watch he wore last night was absolutely not used in any way related to our game, and we will make certain prior to the NLDS that it will not be an issue again. Ariel takes full responsibility and feels terrible that this has been a distraction of any kind."
After Arizona and Diamondbacks nation was filled with nothing but positive emotions after the organization's first playoff win in six years, this is the last thing the D-backs needed.
The timing of it could not have been worse. One day after the biggest D-backs game in quite some time and a day before Game 1 of the NLDS against the Los Angeles Dodgers at Dodger Stadium, I am sure team President and CEO Derrick Hall and company wanted the focus to be on baseball.
Instead, Prieto became a large part of the discussion — and not for all the great work translating Spanish for D-backs coaches and players.
The impending investigation by the league office comes just three weeks after  members of the Boston Red Sox personnel were caught wearing electronic watches in the dugout during a game against the rival New York Yankees.
Joel Sherman of the New York Post first reported Prieto was under investigation Thursday morning and had an interesting note about how this could play out between the D-backs and MLB Commissioner Rob Manfred.
"The Red Sox were fined an undisclosed amount for their use of an electronic watch during August games against the Yankees. That was generally not considered a significant sanction, but at the same time Manfred issued a statement reasserting the rules against electronic equipment in the dugout and declaring: "All 30 clubs have been notified that future violations of this type will be subject to more serious sanctions, including the possible loss of draft picks."
To be clear, nothing has become of this. All we know at this time is that Prieto is being investigated.
I also have a hard time believing that he would purposely be wearing a smart watch to steal signs right after all 30 clubs were put on notice by Manfred.
For all we know, Prieto could have just been wearing his watch and that probably is what it was. But, the rules do ban electronic equipment on the bench that has internet capabilities, according to Sherman's article.
That last note is important because Prieto told Nick Piecoro of the Arizona Republic that his watch was on airplane mode. If that was the case, the watch could not have been connected to the internet.
Prieto was hired by the Diamondbacks in 2014 and is currently in his third season with Arizona after holding the same position with the Oakland Athletics from 2012 to 2014. Prieto played six seasons in the big leagues, appearing in 70 games (60 starts).
"By the Numbers: Arizona Diamondbacks vs Los Angeles Dodgers"
Want your voice heard? Join the Venom Strikes team!