Arizona Diamondbacks: This Is Adam Jones' House Now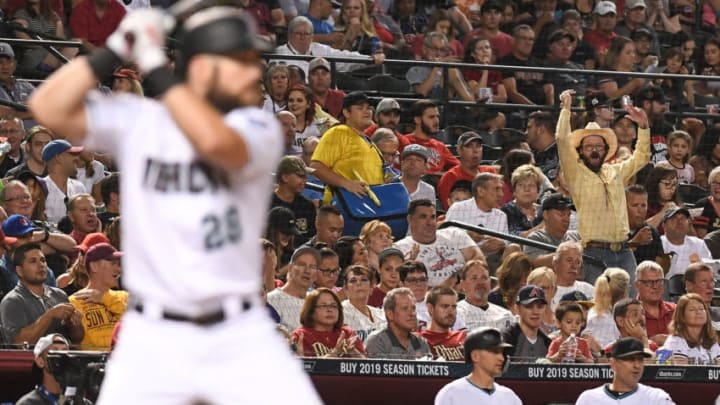 PHOENIX, AZ - SEPTEMBER 06: A fan cheers as Steven Souza Jr. #28 of the Arizona Diamondbacks stands at bat in the fourth inning of the MLB game against the Atlanta Braves at Chase Field on September 6, 2018 in Phoenix, Arizona. (Photo by Jennifer Stewart/Getty Images) /
The Arizona Diamondbacks starting right fielder Steven Souza Jr. was lost for the year after breaking his leg in the final game of Spring Training.
Steven Souza Jr.'s plans for a healthy sophomore season in Arizona were thwarted yesterday when news came down that he will miss the entirety of the 2019 season. MLB Trade Rumors reported the team announcement just a day after Souza crumpled to the ground after crossing home plate in the last game of Spring Training.
The Diamondbacks hoped Souza would play the role of right-handed power bat when they acquired him from Tampa Bay, but after 30 home runs for the Rays in 2017, Souza struggled to stay healthy with an odd pectoral injury that limited him to 72 games. More to the point, the power never returned as he mustered only 5 home runs, a .369 slugging, and .149 ISO That's a pretty close to average isolated power rating, not exactly what the Dbacks were hoping for from their right fielder.
Looking back, the deal may still prove worthwhile for Arizona, who sent Brandon Drury to the Yankees and Anthony Banda to the Rays. Drury, 26, bombed in his 18-game stint in New York, slashing only .176/.263/.275 before they shipped him to the Blue Jays with Billy McKinney in the J.A. Happ deal. He has the ignominious honor of keeping Vlad Guerrero Jr.'s seat warm for the first few weeks of 2019, after which he could easily transition to a utility role.
Banda, 25, still has some promise to contribute on a contending Tampa team in 2019, but a deep field of young arms in the organization will push him to earn his keep. He made eight starts in Triple-A for the Rays in 2018, recording a promising 10.5 K/9, a number that didn't translate to his small-sample 14 2/3 innings with the big league club, where he struck out only 6.1 per nine. Such a small sample hardly means much. Unfortunately, the bespectacled lefty underwent Tommy John surgery and is unlikely to return to the hill until 2020.
The Diamondbacks also received Taylor Widener in the deal – currently one of AZ's most promising pitching prospects. The 24-year-old righty has a good chance to see the majors at some point in 2019, but whether that's in a relief role or filling a rotation slot will depend on how the early part of the season plays out. He will begin the year in the Triple-A rotation with fellow promising righties Jon Duplantier and Taylor Clarke.
As for the Diamondbacks situation in right field, this one hurts. Souza Jr. wasn't guaranteed to become the power threat they'd hoped for, but his upside gave the offense some life it now lacks. Clubhouse charmer Adam Jones now takes over as the everyday right fielder. That's not a horrible drop off, especially as Jones will hopefully recover some value as he moves off of centerfield, and if nothing else, the Diamondbacks can set him up to be a decent trade chip at the deadline should they stumble early, as many expect.
After Jones, there's very little depth to fall back on. With Socrates Brito put on waivers just a day before the injury, the primary option to take some of those at-bats could be playing for a different organization. And even if he makes it through waivers, the demotion is hardly a sign of confidence from the Dback brass, who know him best.
Filling in for Jones on his off days will now likely be some combination Christian Walker, Jarrod Dyson or Ildemaro Vargas. Dyson is the perfect fourth outfielder, but there's little reason to give him regular starts, while Walker provides basically everything Dyson doesn't (meaning power). He doesn't, unfortunately, provide what Dyson does so well (speed, defense), and in isolation each of their skill sets falls short of what you want out of a regular right fielder. Vargas, 27, despite being an older rookie probably has the most promise of the three, as he's raked the last couple of seasons in Reno (.311/.348/.445 last season).
Yasmany Tomas also lingers somewhere nearby after not making the Opening Day roster, but the Cuban has yet to produce even average results at the dish stateside, and his defense has shown even less promise.
Steven Souza Jr.'s broken leg is a bummer for the 2019 Diamondbacks, if only because it saps the lineup of one of its most gregarious power sources. Without him, Adam Jones will have the opportunity to show the league he's still got it, and hopefully the net Dbacks a prospect or two down the line.