Diamondbacks seek out their Force powers this week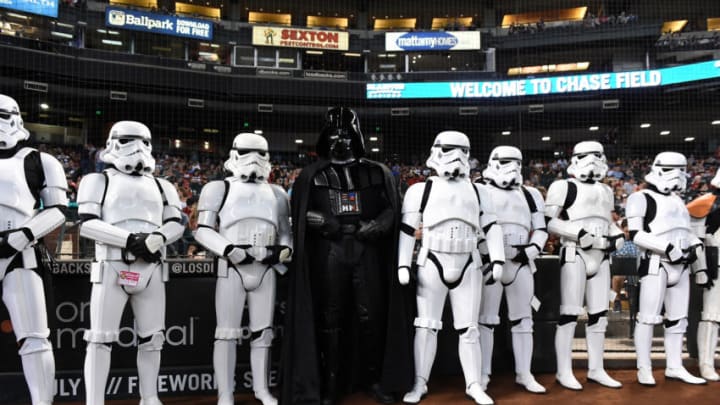 PHOENIX, AZ - JUNE 24: Darth Vader, center, stands behind home plate with some Stormtroopers prior to a game between the Arizona Diamondbacks and the Philadelphia Phillies at Chase Field on June 24, 2017 in Phoenix, Arizona. The Diamondbacks held Star Wars Night at the ballpark. (Photo by Norm Hall/Getty Images) /
The Diamondbacks seek to become one with the Force this weekend
The Diamondbacks are heading to San Francisco after an off day Monday. They will be in San Fran for a quick two-game match-up with the First Place Giants. The Dbacks just faced the Giants last week dropping 3/4 to them. On Tuesday, Zac Gallen faces Alex Wood. Respectively, they are 1-6 4.62 ERA and 9-3 4.03 ERA. Wednesday night baseball brings Merrill Kelly vs Kevin Gausman. Respectively, they are 7-8 4.13 ERA and 10-5 2.31 ERA. Gausman is a potential Cy Young Award winner.
Thursday starts a new four-game series with the First Order Padres. Oops, I mean San Diego. Jedi Carson Kenobi and the Rebels have struggled this year but they seek to topple Kylo Machado and the Dark Side Force users. Starting pitchers have yet to be Force-Sensed.
If you live in the Valley, there's multiple chances to share your Force abilities this weekend at Chase Field! On Friday, there will be a fireworks display set to the best movie music ever, John Williams's Star Wars music. Imagine you're on Endor watching the fireworks from the Death Star exploding.
Then on Saturday and Sunday, there's a new Skywalker in the family. That's right, get your Christian "Sky"Walker bobble-head. They will be available to the first 10,000 fans on each day.
No word yet on whether the characters will be there but the theme of the game will be all Star Wars. It is always a fun time there. I have gone every year it's been held since 2012 or so. The Force will be strong in the park with both the Jedi and Sith there.
Weekend recap for the Dbacks
The Diamondbacks lost to the San Diego Padres 2-0 yesterday. Madison Bumgarner pitched a brilliant game allowing only 2 runs through seven innings. However, Blake Snell was in Cy Young form striking out 13 Dbacks on his way to the win. The Padres took 2/3 from the Snakes in the three-game series. Madbum has been amazing since his return from the IL by posting a 2-2, 32 IP's, 25 hits, 7 ER's, 4 walks to 20 K's, and a 1.97 ERA in 5 games started. I think he's rounding back into his Jedi-form folks.
As mentioned above, the Sith users of the Padres will be back to challenge our weary but resilient Rebels of the desert. The record for the Diamondbacks is 35-78 and for the Padres is 64-49.
Just like for the Rebellion, tough times are still ahead for the Diamondbacks and their fans. However, just like in the story, The Empire will soon be toppled once more.
May the Force be with You this week…