New Features and Foods at Chase Field for the Diamondbacks season!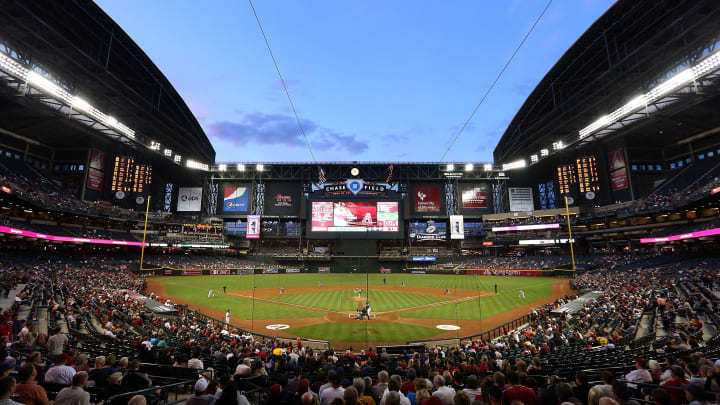 Pittsburgh Pirates v Arizona Diamondbacks General view / Christian Petersen/GettyImages
Just in time for Opening Day on Thursday, April 7th, the Diamondbacks and Chase Field have announced a wide assortment of new restaurants and foods for fans to enjoy while watching their favorite team play at Chase! As previously announced, Guy Fieri's first-ever AZ restaurant will take over Game 7 Grill and be a part of the new sportsbook. I know you just want to see the new food items and find out what new restaurants are at Chase Field so I won't keep you too long.
First off, replacing TGI Fridays out on the Left Field Porch will be Cold Beer and Cheeseburgers. They are a local sports bar joint with multiple locations around the valley. I'm sure they will become an immediate fan favorite. Right next to Cold Beer will be a bar named Bourbon and Bones. The space is going to be roughly 12,000 square feet with over 2,500 square feet of patio space.
Over at Taste of Chase in Section 130
We are being treated to a new Buffalo Chicken Sidewinder which has potatoes, Flamin'Hot Cheetos dust, smoked chicken, blue cheese, green onion, and ranch dip.
New Concession Stand Copper State Steaks in Section 121
This stand replaces PV Burger Company and will debut new items like a Philly Steak concept. It's called a "Cowboy Steak" and has Cheese Whiz, BBQ sauce, and Crispy onion. Or try the Barbecue Brisket Dip with Fries which has Smoked Brisket, Hot Giardiniera, BBQ Jus, and a hoagie roll with fries.
At Big Dawgs in Section 126
The team's Arizona Diamondbacks Dog will be back with hatch green chile queso, chorizo, fire-roasted corn, pico de gallo, and venom sauce. Yet that's not all! Every homestand this season, fans will be able to get a new temporary VS Dogs. It's going to be a special limited-time menu item for only that homestand which means you better get it and try it before it's gone for good!
The Opening Homestand will feature the Padres Dog, a bacon-wrapped TJ dog with avocado crema, queso fresco, and fresh jalapeno. There's going to also be an Astros Dog which will be a hot dog with yellow mustard, diced onion, and beef chili sauce.
Burger Burger in Section 214 has new offerings
This establishment has a new burger that burger lovers will love. It's called the Hatch Valley Whiskey Burger. It has ground chuck, aged cheddar, whiskey BBQ sauce, 505 flame roasted green chiles and crispy onion strings on a potato bun. YUM.
What about Gonzo's Grill in Section 141?
Don't worry, I didn't forget about Gonzo. This menu item is probably my favorite new one and no I'm not on a diet. It's their brand-new Flamin' Hot Chicken Wrap. It's got Flamin'Hot Cheetos Chicken Tenders with lettuce, tomato, cheddar, and bacon in a spinach tortilla wrap.
Let's take a look at the new restaurants coming to Chase Field!