Jake Lamb and David Peralta are Taking Advantage of Shifts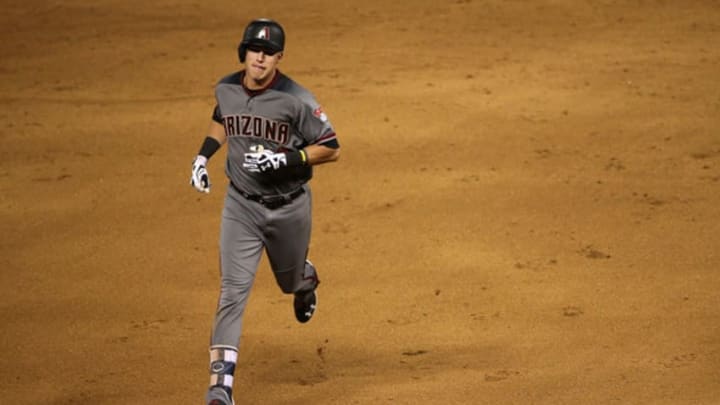 Jake Lamb is having success hitting to the opposite field. Photo Courtesy: Doug Pensinger/Getty Images North America /
Opposing teams keep putting on extreme pull shifts for lefties Jake Lamb and David Peralta, and both have taken advantage of them many times.
The question becomes, when will teams stop shifting Lamb and Peralta to hit to the right side with the best defender on the left side?
Starting with Lamb, nine of his 30 hits this season have been to leftfield, eight have been to centerfield, and 13 have been to rightfield. He is hitting .317 when he pulls the ball, and .320 when he hits it up the middle.
Lamb is a solid hitter, so both averages aren't surprising, however this is: Jake is hitting .450 (9-for-20) when going to opposite field with four doubles.
Here is what Lamb's spray chart looks like so far this season courtesy of FanGraphs:
Source:
While most of Lamb's damage has been done on the pull side of the field, and most of his outs have been to left, based on his average and what I have seen from the naked eye, Jake is a good opposite-field hitter.
Lamb talked about his approach in early April, and says he is more comfortable hitting the ball away than a pitch in, which is the exact opposite of most guys. Pitches away that are hit tend to go the opposite way.
""Coming up through the minor leagues, you're taught fastballs low and away, fastballs low and away. That just went right into my strength. Of course, scouting reports get out and guys started seeing if I can hit the pitch in. I've showed that I can, although when I'm feeling good, I'm probably not even swinging at that pitch.""
However, Lamb did say he doesn't like to change his swing when the shift is played in front of him.
""If you're up there trying to control where you hit the ball, then you're taking about manipulating the barrel. You're changing your bat path, and I don't want to do that. I want the barrel to enter the zone early, and stay in the zone for as long as possible, with my natural swing.""
More from Venom Strikes
Peralta has seen his fair share of pull shifts this season, and like his teammate, "The Freight Train" is hitting .462 (12-for-26) going to left, and has more hits going the other way compared to center and right.
If anything, the shift is more of a hindrance against Peralta, and that approach helped him finish near the top of the NL in hitting last season.
Here is David's spray chart for 2016 courtesy of FanGraphs:
Source: FanGraphs
An example of Peralta's opposite field approach:
You've got to wonder what it's going to take for teams to not shift on these two D-backs hitters.
Maybe more notes from advanced scouts will do the trick, but until that happens, Peralta and Lamb will keep getting hits the other way.