NLDS: Arizona Diamondbacks reveal roster set to face Dodgers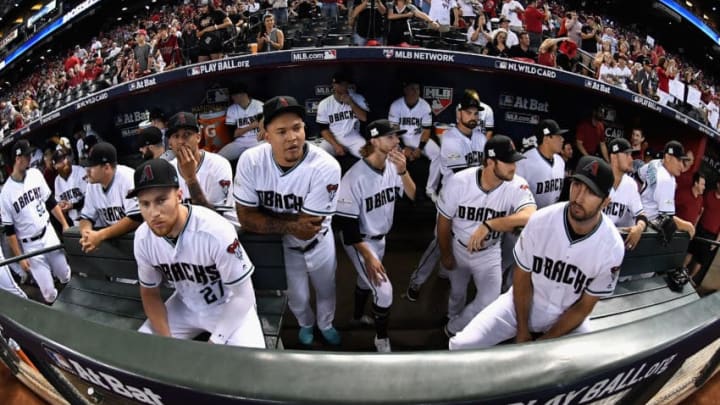 PHOENIX, AZ - OCTOBER 04: Brandon Drury /
The Arizona Diamondbacks revealed the 25-man roster that manager Torey Lovullo has deemed worthy to face the Los Angeles Dodgers. 
Despite edging them all season long, the Arizona Diamondbacks have their work cut out for them against the Los Angeles Dodgers.
When the Diamondbacks revealed their roster for the Wild Card game, they left Taijuan Walker off of it. But, the announcement came on Thursday that Walker would be the starting pitcher for the first game of the NLDS.
Prior to Friday's announcement of the roster, questions remained around Chris Owings return and the use of Jake Lamb.
Owings has been working towards a return from a fractured hand.
More from Venom Strikes
It doesn't look like Owings was ready, because he isn't on the NLDS roster either.
Lamb has struggled against lefties, which was one concern against the Dodgers' ace Clayton Kershaw, but Lamb has also never faced Kershaw in his career. But, his 4-for-4 performance in the Wild Card game left Lovullo with a decision to make.
He obviously left Lamb on the roster so that he is available for other NLDS games, but Lamb may not make Friday's lineup.
However, he could be the X-factor since Kershaw has never pitched to him.
The Diamondbacks went into the Wild Card game with 10 pitchers and 15 position players. Lovullo made a slight change and the team will enter the NLDS with 11 pitchers and 14 position players.
Here's a look at the Diamondbacks complete 25-man roster:
The Diamondbacks did decide to add rookie slugger Christian Walker to the roster. Walker was added as an infielder, but he can play the outfield as well. In that sense, he sort of replaces Rey Fuentes, who is not listed.
As for pitching, there were no changes made other than the addition of Taijuan Walker.
The Dodgers released their roster as well.
The biggest surprise is Chase Utley, who owns a .042 batting average against the Arizona Diamondbacks in 2017.
Joc Pederson did not make the roster either, but rookie Kyle Farmer did. Farmer has big at-bats for the Dodgers, including a 2-for-3 performance against the Diamondbacks.
Another interesting move was adding Pedro Baez to the roster despite his struggles late in the year. Baez owned a 3.38 ERA in August and a 10.38 ERA in September with a career 6.52 ERA in the postseason.
Only time will tell which roster has the depth to take their team to the NLCS.
"By the Numbers: Arizona Diamondbacks vs Los Angeles Dodgers"
Want your voice heard? Join the Venom Strikes team!