Arizona Diamondbacks – is a six man-rotation a good option?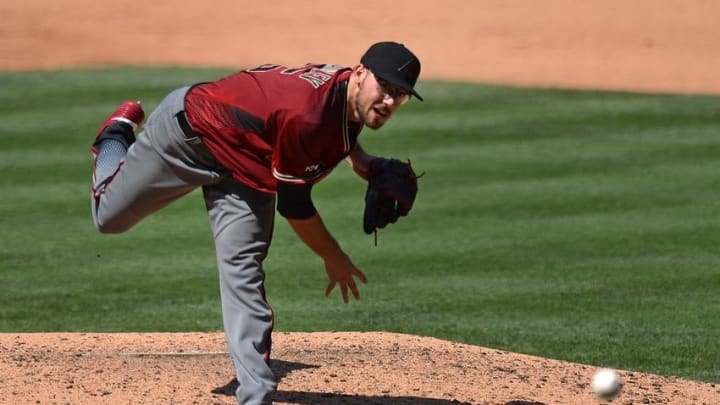 Could Braden Shipley be apart of a six-man rotation? Mandatory Credit: Jake Roth-USA TODAY Sports /
Rubby De La Rosa is back in the Arizona Diamondbacks starting rotation. What does this mean for Braden Shipley?
---
On Thursday afternoon, the Arizona Diamondbacks announced right-handed Rubby De La Rosa returned to the rotation.
De La Rosa's return to the starting rotation was questionable. The right-hander seemed to have it all working for him in the middle of May. He was established his fastball inside and complemented that with a nasty slider. Then, he suffered from right elbow inflammation, and landed on the disabled list on May 27. De La Rosa returned to the rotation on Sept. 9.
Having De La Rosa back is gratifying for the organization. The question remains, what does this mean for Braden Shipley and his development at the big-league level?
The Arizona Diamondbacks view both De La Rosa and Shipley as reliable big-league arms, and both need to fit into the rotation.
What About a Six-Man Rotation?
Should manager Chip Hale decide to go with a six-man rotation, Shipley would likely make a few starts.
Meeting with reporters prior to Saturday prior to Saturday's game with the Giants in Chase Field, Hale indicated De La Rosa will remain in the rotation. Hoping to get three innings from De La Rosa in his Friday night start, Hale indicated he was satisfied with the two innings from De La Rosa. Shipley came in relief, and in De La Rosa's next start, Shipley will also back-up De La Rosa.
For Shipley, his turn in the rotation was not entirely lost.  Through he experienced a decline in production during August, Shipley gained better results on August 26. Against the Reds at Chase Field, he limited Cincinnati to four hits and one earned run over seven innings. In this outing, Shipley used 73.5 percent fastballs mixing speeds and locations. In his previous six starts, he utilized a fastball 51.5 percent of the time.
More from Diamondbacks News
"Over the last few starts, I've been getting hurt on my off-speed, maybe throwing it too much," Shipley said after the start against the Reds. "I just really relied on my sinking fastball and my four-seamer, and on getting ahead of hitters and using that to get outs."
This could be a key turning point in his development at the major-league level. For a young pitcher, one moment can make a huge difference. Before making a decision on the number of starts Shipley receives, Hale also takes into account a pitcher's season workload and general health.
Going forward, much depends on how De La Rosa handles assignments. If he struggles to reach a pitch limit and is not effective, the team might consider moving him to the bullpen. A likely scenario is allow De La Rosa to pitch to his physical limits.
Next: Jensen homers in first AB
In the case of Shipley, the right-hander  needs to pitch, and a six-man rotation could be one way toward that goal.