Arizona Diamondbacks: Daniel Descalso Signed as Free Agent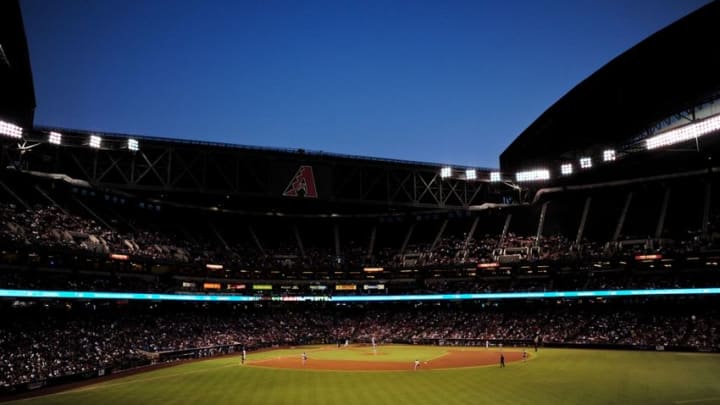 Chase Field Mandatory Credit: Matt Kartozian-USA TODAY Sports /
In the continuing search for the left-handed bat, the Arizona Diamondbacks signed Daniel Descalso.
If general manager Mike Hazen of the Arizona Diamondbacks continued to search for a productive left-handed bat off the bench, he found another late Tuesday afternoon.
Previously signing Jeremy Hazelbaker and Gregor Blanco, add Daniel Descalso to the list. After spending the past two seasons with Colorado, and granted free agency last Nov. 3 by the Rockies, Hazen hopes Descalso brings productivity and relief. With the prospect of giving incumbent Jake Lamb a periodic rest at third, Descalso, at 30-years-old, brings a career .242 batting average for seven major league seasons.
To make room on the 40-man roster, the Diamondbacks designated Phil Gosselin for assignment.
Ken Rosenthal of FOX Sports reported that Descalso is guaranteed $1.5 million in 2017 and the deal includes a $2 million buyout for 2018. Last season with the Rockies, Descalso earned $2.1 million.
Originally selected by the St Louis Cardinals in the 3rd round of the 2007 draft out of Redwood City, Calif., Descalso came up as a third baseman in 2011. That season, Descalso started 61 games at third, 11 at shortstop and nine at second base. Since, he's been essentially a utility player and could give relief to starters at second, short and third.
For now, Descalso is regarded as another left-handed bat but could have a few roadblocks in front of him. Then again, should Descalso turn in a hot spring, he could make the situation tough on decision-makers.
More from Diamondbacks News
With the latest possibility of infielder Chris Owings spending time as a corner outfielder, that could free a slot for Descalso. Due to the injury sustained by A. J. Pollock, Owings was rushed into center field at the start of last season, and by all accounts, played a decent outfield. When Pollock returned, and shortstop Nick Ahmed went down with season-ending hip surgery, Owings completed the season at short.
Now, a healthy Ahmed is penciled in to start at short and could leave several battling for a few precious spots on manager Torey Lovullo's bench.
In designating Gosselin for assignment, the Diamondbacks released one of the top pinch-hitters last season. Gosselin's value off the bench was not minimized, and former Arizona manager Chip Hale called Gosselin, "a truly, professional hitter." A right-handed bat, Gosselin's ability to make contact was one of his assets, and the Diamondbacks lose a productive right-handed bat off the bench.
Now, the bench conversation could settle on a plethora of left-handed hitters, and Hazen and Lovullo's search for quality help off the bench is likely over.
Should Ketel Marte, acquired from Seattle in the Jean Segura trade, make the opening roster, the shortstop by trade is a switch-hitter, and could provide one right-handed bat. Owings could also come off the bench, or possibly play third against left-handed pitching. In parts of two seasons with the Mariners, Marte hit .259.
Next: Another accolade for Goldschmidt
Coming into spring training, Hazen and Lovullo seem to have some options. All of which depends on the final composition of their 25-man roster.